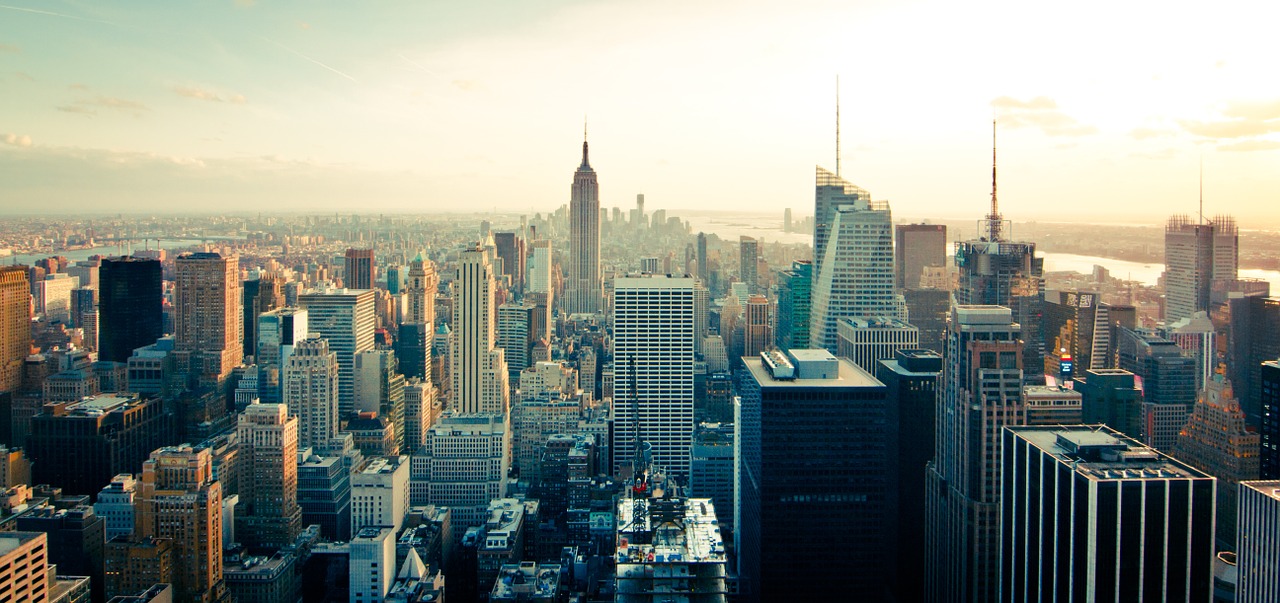 A master marketer, AARP has grown to over 37 million subscribers. The not for profit organization has a large group of people to sell products to and clearly take advantage of it. I have been on their mailing list myself since I turned 50!!
Now, you should know that AARP is not an insurance company. They don't pay claims. They do not underwrite insurance. However, they are a marketing and sales organization that showcases life, health and even auto insurance products.
AARP life insurance for seniors is underwritten by New York Life while health (Medicare related) insurance is underwritten by United Health Care. Of course for your car… automobile coverage is provided by The Hartford. AARP has licensed sales people that sell these insurance products to members of the association.
Today I will be putting the their life insurance offerings from New York Life under the "microscope." We are evaluating life insurance for seniors here, giving the facts about the products and offering our professional opinion as a licensed, independent life insurance agency.
If a product is low quality and overpriced, we will highlight those weaknesses. I'm not here to be a nice guy, just call as I see it as a qualified, seasoned professional in the life insurance business.
The following questions will be answered:
Is this life insurance anything special?
Do the products provide good value for the typical senior citizen?
Are these some of the best offerings on the market for your dollar?
Does the AARP life insurance program really have seniors best interest in mind or is it just fluff to make a buck?
Let's get started.
AARP New York Life Insurance For Seniors
AARP has a business arrangement with New York Life to provide life insurance to it's members that wish to pay for it.  The life insurance is marketed and sold thru AARP to its members, while it is actually underwritten and administered by New York Life. 
There are a total of 3 life insurance offerings to choose from.  2 of them are designed for seniors. These 2 are based on whole life insurance. Be aware, the 3rd product is not designed for seniors or for those people planning for final expense, end of life needs of their family. It expires at age 80 of the insured individual. This product is a term life insurance policy that includes increasing premiums in 5 year rate bands until expiration is reached.
Yes, AARP is paid handsomely for selling these New York Life products to its members. 
Take note here… AARP is offering 1 life insurance company to all its members, no more.
Should you assume that these offerings are top notch since they are thru an association for retired people?
I am going firmly state this… no!!
Do not jump to that conclusion.
Do you like going to the grocery store and only having 1 choice of everything? Would that that store have the best products for you with that kind of business model?
Think I know what you are thinking. Choice is important. Choice gives you the opportunity to find what is best for you and at a price you can afford.
While burial insurance endorsed by AARP may seem to be a good option, it is far from the top of the heap.
With that said… New York Life offers many fine products. However, their finest life insurance offerings are found only with career New York Life insurance agents and independent agents/brokers.
No Medical Exam AARP Life Insurance
Like most final expense life insurance on the market, all 3 AARP burial insurance policies reviewed today have no medical exam.  This makes acquiring life insurance for a senior significantly easier to obtain.  No needles and no one visiting you at your home to check your health.
The downside is that coverage will cost more without a paramedical exam requirement. 
Why you may ask?
New York Life simply cannot verify your current state of health without a paramedical exam. In other words, the don't get to know as well to be assess you as a risk.  As such, they raise premiums for coverage somewhat to offset the additional unknown risk to the insurance company.
No Exam life insurance is not revolutionary and quite common in the industry.
AARP Term Life Insurance
AARP Level Benefit Term Life is the only term life insurance option for members.
If you were not aware, all term life insurance is temporary coverage regardless of the insurance carrier issuing the coverage.  You are "renting" protection for a certain time period after which coverage or level pricing "terminates."
The AARP, New York Life term insurance plan expires completely on your 80th birthday.
In other words, if the policy expires prior to death, your beneficiary(s) receive nothing. 
The owner of this policy is paying for pure life insurance protection only. There is no cash value or return of any premiums in this policy. No cash value is the nature of term life insurance and not exclusive to the AARP term offering.
AARP level benefit term life insurance is available with death benefit amounts ranging from $10,000 to $100,000. Higher amounts are available but special approval is required.
As a simplified issue policy with limited health questions, this policy is designed for less than ideal health which can help with ease of qualification. Your answers to some basic health questions will determine eligibility for coverage. 
Most people who apply are accepted.
Now, go down below and take look at an AARP term life quote from their website.
Looks pretty great right? Well here is the major problem with this product. It is advertised with the terminology "affordable rate that increases over time."
Your rates are never guaranteed here folks!!  Not only do those rates go up in the 5 year age bands. Yes, unlike whole life insurance, they rates do not stay level. So yes, you will have rate increases on this policy. Further, premiums in those price bands are not guaranteed in the policy.
Examine the fine print in the snapshot we included below.
If you know your needs only require term life insurance, we advise you to get an instant comparison quote of the top term life insurance companies and rates for seniors.
Here's the reality of AARP Level Benefit Term life insurance. This type of policy increases in cost every 5 years regardless of your health. In other words, it is not a fixed cost for the life of the policy. You really don't know what you might be paying as nothing has a written guarantee.
Policies like this frequently become unaffordable down the road. At that point, are dropped in response, when a retired individual's health may not as good anymore making it tougher and more expensive to qualify elsewhere due to age and health.
Not displayed clearly is the expiration of coverage at age 80!
We all know plenty of friends and relatives that have lived well beyond age 80.
Yes, in this term policy you are guaranteed the right to purchase replace your term policy with a permanent, whole life insurance policy that is endorsed (sold) by AARP (New York Life) to continue coverage prior to expiration. If you fail to act before the expiration date, you must qualify again based on your health.
Problem is…now your older, and the new permanent premium also based on your attained age at that point in time.
Big bucks folks!!
Whole life insurance gets expensive at age 80 particularly for men. What if you miss the expiration date and are age 80 or 81 and receive your expiration letter? Do you think your health is the same as age 70? Now insurance has gone up in price due to age and you must qualify by your current state of health to get more affordable rates.
You will have some hard decisions to make at this point. It is going to be a lot more costly!!
Ladies and Gentleman, we have worked with plenty of very upset people over this specific policy. We know the complaints all to well.
Anything other the guaranteed level term life insurance is a low grade life insurance policy to start with and should be avoided regardless of the initial teaser rates.
The world hasn't become less expensive to live in.
Why would we want a policy that goes up in price as the cost of living increases? Most seniors we work with are on a fixed income.
That is a double whammy!!
Most of the "upset people" that purchase policies like this do not understand what they bought from the AARP representative. Typically, they are attracted by the initial low price and that becomes their focal point.
The value of the premiums paid over time needs to be carefully considered. While the death benefit stays level, the premium is anything but level and can really bleed your wallet over time.
The trouble continues when this policy expires promptly on your 80th birthday. That would be the end of your AARP burial insurance policy if you paid all those years.
How many people do you know that are age 80 or more? Personally, I know a lot! Average life expectancy for women is about 80.
My own Mom is still cooking along in her 80's.
Trying to buy permanent life insurance can be very expensive even if your health is still pretty good. Most elderly people must face the odds that multiple health issues will reduce your options with insurance companies.
An important note, AARP does give you the option to convert to a NYL Whole life policy during the "term" (prior to age 80), but it is not competitive cost wise at all. You will be charged the appropriate premium for the conversion based on your current age, not at the age your originally purchased.
Reputable life insurance agents and agencies refuse to market policies like this. This is bottom of the barrel life insurance laced with policy limitations that often penalize seniors.
I'm sorry, but it is nothing short irresponsible of AARP to market junk like this as final expense or burial insurance. This is just 5 year increasing term insurance, that is all. Term insurance is NOT for final expenses.
My advice… AARP Term life insurance should be disregarded if you are planning for end of life expenses and wishes.
Never, never, never!!
There you have it…the three N's.
The reality is, quality term life insurance is for completely different applications and beyond the scope of this article.
Isn't lifetime dependability for your loved ones most important?
Ask yourself about this before purchasing any life insurance.
To be fair we have provided a AARP term life insurance quote in a chart below.
AARP Whole Life Insurance
Now this is a product designed to better get the job done for seniors. AARP Permanent Life Insurance is the best burial insurance product they offer to seniors.
People are just simply living longer aren't they?
Modern medicine has a lot to do with it.
AARP Permanent Life Insurance offers a lifetime of protection and a guaranteed level premium for life.
Take a look at rates on the AARP Whole Life Insurance sample below.
While it may not have your exact age and ideal benefit amount, it gives you an idea and basis of comparison. You can obtain coverage all the way up to $50,000 and still have no medical exam.
Full benefits are available upon acceptance. In other words, there is no waiting period for full coverage. AARP life insurance requirements for eligibility for purchase this policy are primarily determined by health questions in the application and the first payment.
This is a quality policy designed for seniors. Further, the premium cost will never change and your benefits never decrease regardless of age or your health/.
This permanent, whole life policy is also "simplified issue" in which most seniors who apply will be accepted.
As a general rule, most applicants can qualify for simplified issue whole life insurance though this New York Life product may not be able to accept your health while another insurance company will give you the same benefits and quality in their policy.
Higher coverage amounts may be requested, but requires additional approval before official application can be made.
This AARP, New York Life policy will accrue cash value, but will be limited in that regard.
We do not recommend the use of the cash value inside these whole life policies as it will decrease the payout to the beneficiary upon your death if the cash value is not repaid into the policy prior to passing.
This is a better product for seniors without a doubt. You will know exactly what you will be paying per month for the protection. The cost will never change regardless of your health and you cannot outlive the benefits.
My evaluation…acceptable and a good type of coverage for a senior who is looking for burial insurance or the like.
The policy is a no exam application so it is very easy to apply for.
With that said, you should know…
The con…AARP Permanent Life Insurance is quite expensive compared to the top life insurance carriers on the market. This policy is a standard, simplified issue whole life policy. There are a lot of life insurance carriers out there that will offer you the best rates and coverage.
So…
There are much better values out there for your money.
Our recommendation, fill out the instant final expense quote tool on this page. Select "Excellent Health" under the "Health Class" and you will see why the coverage is not competitive very quickly!!
AARP Guaranteed Acceptance Life Insurance
Ok, here is where life insurance can get pricey for a good many seniors… AARP Easy Acceptance Life Insurance. This is the most expensive product of the 3.
While this product is a permanent, whole life insurance, it has some very significant limitations you should be clear on.
First of all, this is pure, high risk life insurance.
With guaranteed acceptance coverage, all age qualified individuals, regardless of health and can legally consent to the coverage on their own can be insured. There are no health questions asked.
A side effect of a "no health questions" policy…
Why?
The insurer has very, very little information about you and as a result, are taking a significant gamble. They do not know anything about the insured related to the risk they are taking. As a result, the insured automatically becomes a high risk life insurance individual.
Look below for the rates on the AARP Easy Acceptance Life Insurance product. For those who have checked with a professional independent agency like Special Risk Life and could not qualify medically, this type of coverage can be a saving grace. If you have a terminal condition with less than 2 years estimated to live, this is all you probably qualify for. You would need guaranteed acceptance life insurance. There are several reputable carriers that offer this type of policy.
AARP Easy Acceptance Life Insurance is also a permanent, whole life insurance policy which means you cannot outlive the benefits. Your premiums can never go up nor will the death benefit go down regardless of age or declining health. The one exception to this… any cash value that the policy owner borrows from the policy and not repaid.
Beyond the higher premiums..
A key point to remember… This policy will not cover the insured person in full for natural death during the first 2 years.
Any guaranteed acceptance whole life policy (AARP Easy Acceptance Life Insurance review) has what is called "limited" benefits the first 2 years.
During this "limited" waiting period, if natural death occurs to the insured, the beneficiary would receive a refund of paid premiums plus compounded interest. Many carriers will pay 10% interest. If you paid $100/month for 12 months and died due to a natural cause, your family would receive $1200 + the interest as your death benefit. After 2 years, the policy will be paying the full death benefit.
All life insurance will cover you immediately for accident death in the full amount of the policy.
Now, it is extremely easy to qualify for a guaranteed issue policy but does that really help your loved ones handle the financial stress brought on by death if something happens in those first 2 years?
Would you have peace of mind buying this policy because there are no health questions?
Our recommendation is to leave this type of whole life insurance as "Plan B" if you cannot get covered medically.
This guaranteed acceptance life policy is also capped at a maximum death benefit of $25,000.
AARP Life Insurance Rates
For Men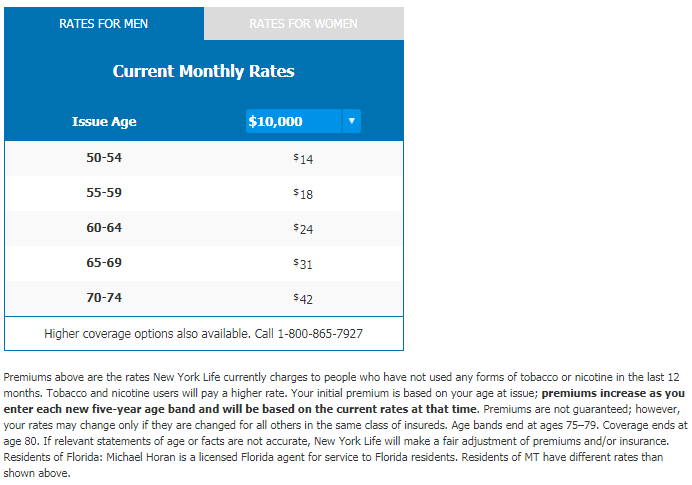 For Women: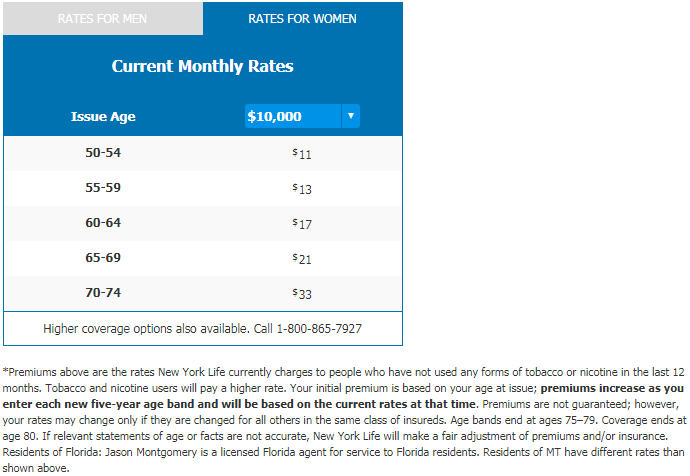 Permanent Whole Life Insurance
For Men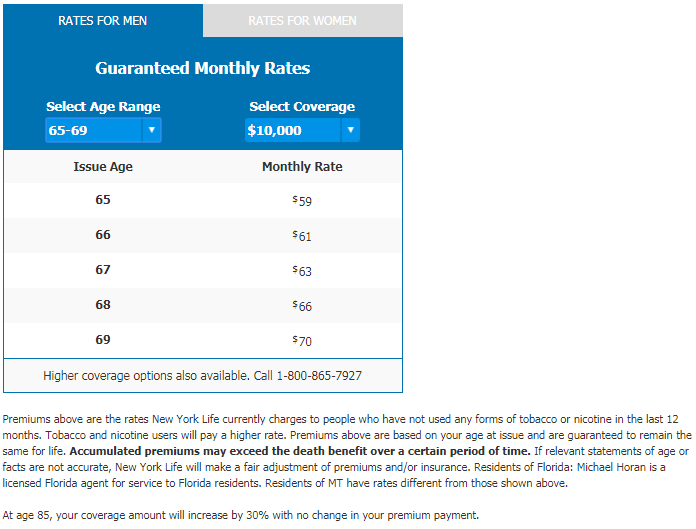 For Women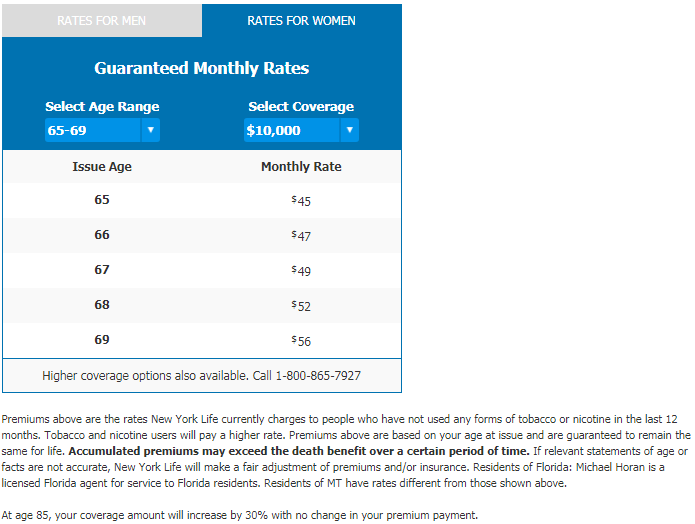 Easy Acceptance Whole Life Insurance
Rates For Men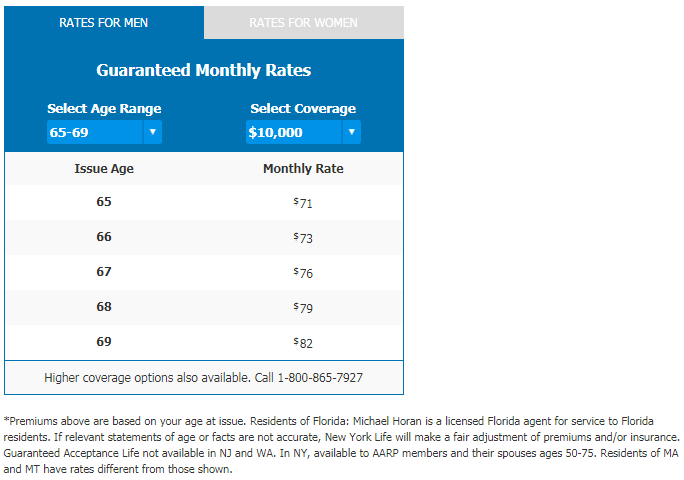 Rates For Women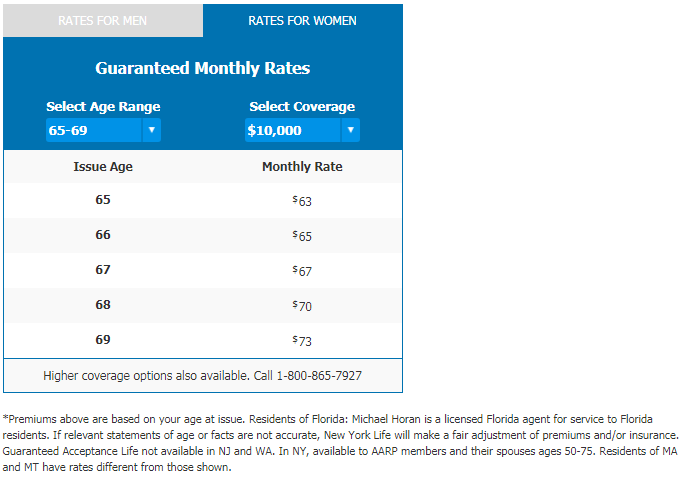 Get a Quote From Special Risk Life Insurance
Take the time and use our instant quoting tool. It will take you a minute or so, but you will see how overpriced these AARP policies are on an apples to apples basis.
Unless you have a very, very serious medical situation, select "Excellent Health." 90% of seniors, regardless of age, qualify for the best offerings from these premium senior carriers.
If you just want to zero in and see if you qualify give us a call or you may proceed in your instant quote of requesting to apply online.
Folks, there are numerous life insurance companies that just have better products and much better rates.
Either way, now you have shopped rates and type of coverage among the top life insurance rates for senior coverage.
As you found out, AARP New York Life coverage did not fair well.
To top it off, I can't tell you how many seniors I speak with that are upset with the mistake they made in their purchase.
Food for thought ladies and gentleman.
Don't assume you can't qualify for simplified, medically underwritten senior whole life insurance with full, immediate and level premiums for There are other insurance companies that will help you save your hard earned money.
All life insurance companies have different standards and medical questions used to compete with each other and earn your business. Let a professional sort this out for you.
A real, licensed professional can do the final shopping for you…free.
Conclusion To Our AARP Life Insurance For Seniors Review
You've probably sensed my bias against the Guaranteed Acceptance Life Insurance offerings.
Honestly, it not that I don't like it, it is a very "over prescribed" product in the vast majority of health cases we come across. In other words, unnecessary for the average senior.
We are in the high risk life insurance market daily!! We offer the product from several life insurance companies.
Seniors are not clearly explained the limitations nor how much extra they are paying for this policy. Roughly 90% of our clients qualify for lower rates with a standard, simplified issue whole life policy with full, immediate benefits.
There are times when Guaranteed Acceptance life insurance is absolutely needed. You don't buy it unless there is no better solution. It has a significant limitation those first couple years coupled with a high premium comparatively.
I'm sure you understand that having no medical questions in an application raises the rates way up!!
The policy sounds great when you don't know the facts and have not heard about all the other options to save money and get more benefits.
If you have a terminal condition and need Guaranteed Acceptance life insurance, Gerber Life or AIG usually have the best rates. Go here to get more information or use the Final Expense Quoting Tool on this page. Run some free quotes on yourself and experiment with the "Health Class" menu. Run it one time with "Poor Health" which locks in Guaranteed Acceptance insurance and then run "Excellent Health" the second time around. This will put you in the typical 90% of senior clientele we work with.
Make sure you use the same benefit amount in each try.
Thumbs down on the AARP term life insurance policy.
Obtaining a AARP term life insurance quote is easy enough when you look at the chart above. Just remember, those rates are going to rise until the policy expires on you. There are no guarantees on the cost. Review the fine print again as needed for clarity.
This specific product is not for seniors at all. Does not matter what they advertise or tell you. You are being teased with the low, initial teaser rate to hook you!!
As a company, we hear nothing but disappointed or very angry people who dropped the coverage after they have had it a few years. It goes up every five years and expires at age 80. Many seniors drop it when they need it the most.
Again, how does that help our loves ones in our absence?
Avoid this product!! You were warned here. Too much negative feedback from former AARP customers regarding their experience.
Clearly, AARP's best offering is their permanent, whole life product which is just a simplified issue whole life insurance policy with limited health questions.
While overpriced, it is still standard whole life coverage, the meat and potatoes of senior burial insurance policies.
It offers full benefits upon acceptance. A good majority of applicants will qualify…regardless of being in their "golden years." Keep in mind, this product is senior oriented and forgiving of common health issues at the very least. There is no medical exam required.
If there is a downside to the AARP/NYL branded policy…it is not very competitive.
Sorry folks, AARP life products offer nothing special.
You can get the same or even better policy elsewhere and save a lot of money over the years.
And…
Yes, these are products from top life insurance carriers.
Is there any reason you would want to pay the AARP life insurance cost?
Get more information about how to save money on no exam, senior life insurance and avoid paying for policies that are not in your best interest.
Am I saying you should go cancel your life insurance from AARP? No, but I suggest looking at better offers on the market especially if you have or are considering the AARP "level benefit term" offering.
Wrapping up, I cannot give a thumbs up to any of these products.
These offerings leave something to be desired. The value of ownership is just not there.
Either they are not priced competitively or are not true burial/final expense insurance products.
New York Life Insurance tends to have some higher rates than some other life insurance companies, but those particular products are value driven and offer a bit more for the premium paid.
NYL premium life insurance products are not available thru AARP either.
As you comb thru other AARP life insurance reviews, remember that the association makes good money off the sale of these policies. It is mind boggling how much. This is at your expense and you are not receiving a premium policy in exchange.
Are they really working in your best interest if there are numerous better options out there?
According to Forbes, in 2012, AARP supported Obamacare's cuts to Medicare benefits.
AARP managed to make 2.8 billion thru doing so.
Yes, 2.8 billion!!
Be advised, AARP has some very, very high paid people running the "not for profit" company it claims to be.
The product offerings provided to its paying members are proprietary products marketed only by AARP and its sales force.
The AARP life insurance program does work directly with NYL to provide coverage. However, New York Life offers its best, premium products outside AARP thru its captive and independent agent network.
New York Life does offer some excellent products, but the offerings reviewed here are not in the same class.
Be careful what you are buying. Life insurance is not apples to apples like many assume.
We all want to buy the right coverage don't we?
Carefully consider what you are purchasing before assuming it must be a good burial insurance product for you since AARP endorsed it.
It means nothing folks.
Is AARP your friend in your life insurance quest?
In the opinion of this independent life insurance agent and writer, no.
Is AARP Life Insurance Good?
Our official Special Risk Life Insurance Grades:
AARP Term Life Insurance = "F"
AARP Whole Life and Guaranteed Issue Whole Life = "C"
None of these policies rank well among the top life senior life insurance companies. AARP whole life insurance products would be the only passing grade they receive here. Too many complaints we have received on their term life product over the years.
Look elsewhere folks.
Take action now and get yourself a good independent agent/broker for starters. You will do a lot better and have all your options in front of you instead of disappointing, overpriced products from 1 company.
Hope this article has helped you make the best decision for yourself. Please feel free to comment below, continue exploring our site, or simply call to get your questions answered. We're here to help. (269) 244-3420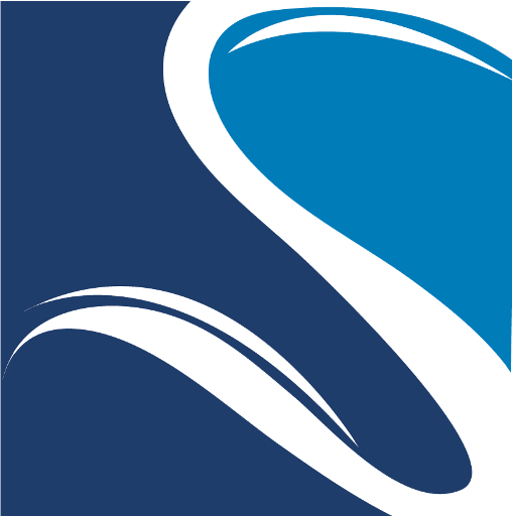 Special Risk Life is a veteran independent life insurance agency that specializes in guiding people with even the toughest health conditions thru the life insurance process. We are very passionate about helping people get the financial protection they want while delivering affordable coverage people can absolutely count on.