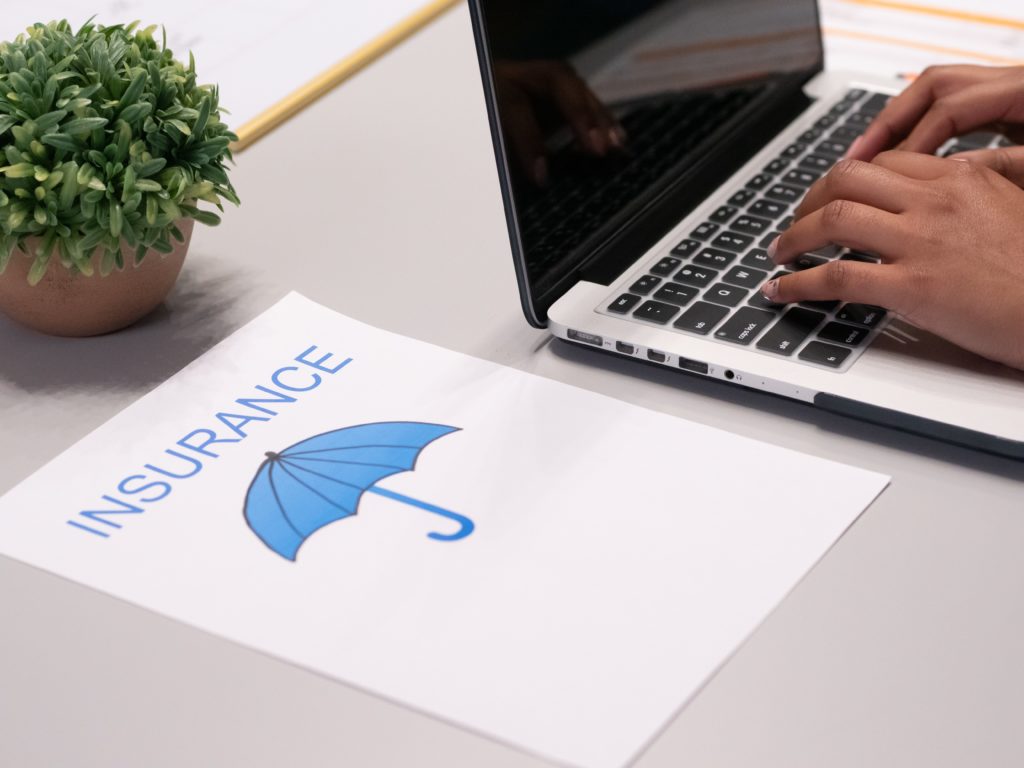 Buying life insurance can be intimidating. Some people worry that they won't be approved for coverage due to their health. Others might believe company A is better than company B because they have heard of them before. Jonathan Lawson Colonial Penn Insurance is now a staple of life insurance on TV. For some life insurance consumers, familiarity with an insurance company name creates a sense of trust. Right or wrong, whenever you purchase any life insurance, it is best to know what is written in the policy. Ignore the ad. Realize the fine print in the commercial itself is what you should be focused on. Remember you are purchasing a policy that defines how your family will be compensated when you pass away.
Below you will find our professional and experienced based review of their 995 senior life insurance product. You can be assured as a licensed and independent life insurance agency, that we are speaking from extensive experience beyond the actual facts.
The Colonial Penn Commercial With Jonathan Lawson
If you've seen many Colonial Penn ads over the years, then you know they like to use paid endorsers to market their life insurance to people 50-85. While the Jonathan Lawson Colonial Penn commercial is revitalizing their guaranteed acceptance whole life insurance made almost "famous" by Ed McMahon and Alex Trebek, the marketing approach has changed. What is different with Jonathan Lawson… he is just an employee of Colonial Penn unlike paid endorsers like Alex Trebek or Ed McMahon.
We are going to break this down for you so you can see the pro's and the con's and how it is really priced.
Colonial Penn 995 Plan For 2023
Colonial Penn, with Jonathan Lawson's assistance have rebranded the insurance company's Guaranteed Acceptance Whole Life insurance as of 2022. It now seems to be called the 995 Plan with more focus on a number than ever before. Unfortunately, consumers are frequently upset to learn that $9.95 per month buys very little life insurance and certainly not enough to cover than cost of anyone's funeral of burial age 50-85.
Included Benefits In The 995 Life Insurance
First point to cover with this plan. It is a whole life insurance policy. A whole life insurance policy will not expire or lose value as you age, even with deteriorating health. The 995 life insurance is also includes "Guaranteed Acceptance" which means if you meet the age requirements and have the ability to pay the premium, you will not be denied coverage. Anyone between the ages of 50-85 may purchase lifetime coverage.
Guaranteed Acceptance?
There are NO health questions which could result in a decline.
That sounds pretty good right?
The reality…
It will cost you a pretty penny to own upfront and risk your family not receiving the policy value you purchased.
You must understand that life insurance companies cannot evaluate the risk of an applicant accurately without asking health questions. Life insurance is medically underwritten traditionally allowing the carrier to accurately assess their applicants overall insurability.
What do you think an insurance company does in to offset the risk of not having a clear picture of who is requesting burial insurance protection like the Colonial Penn 995 Plan?
You got it. They jack those rates up for starters…
And…
They also insert a 2 year limited benefit period for natural death causes into the policy.
It might be hard to believe that Jonathan Lawson Colonial Penn life insurance is like this, so I took the following from the Colonial Penn website. Please be sure to carefully reading the description. This is the reality of what your family would be stuck with.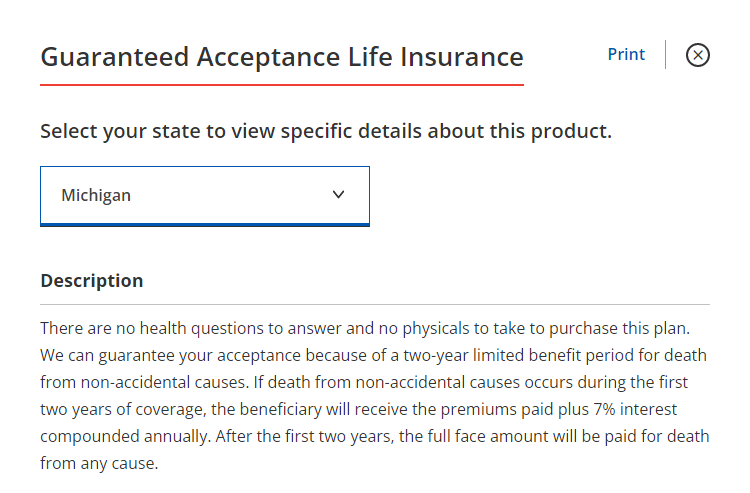 Here is what you need to understand about that.
For the first 2 years of coverage with their 995 life insurance you don't have much natural death protection. For example: cancer, stroke, heart attack, etc. The interest rate factor they offer is not competitive with the top life insurance companies offering guaranteed acceptance policies either.
If you perish due to an accident such as a car wreck or slip and fall, Colonial Penn would be obligated to pay the full policy amount as long as your passing occured within 90 of the accident.
What Does Colonial Penn, Jonathan Lawson 995 Life Insurance Really Cost Then?
The 995 Plan is priced in "Units." Each "unit" will cost you $9.95 per month.
The $9.95 units policy value is determined by your age when you buy your Colonial Penn policy. Your rate will be locked at this point for as long as you own the policy. The younger you are, the higher the value. In 2022, a 50 woman would have a policy value of $2083 for $9.95/mo. An 85 year old man would have a value of $418 for that same $9.95.
So how many units of this plan can one buy? As of January 2023, 15 units is the maximum. This means premiums for anyone applying will not exceed $149.25/month ($9.95 x 15). However, that does not mean the product is affordable or priced well. Take a look at the chart below. See the value of insurance protection per 1 unit.
How Much Protection Does the 995 Colonial Penn Jonathan Lawson Plan Really Buy?
| | | |
| --- | --- | --- |
| Age | 1 Male Per Unit ($9.95) | 1 Female Per Unit ($9.95) |
| 50 | $1786 | $2083 |
| 51 | $1732 | $2068 |
| 52 | $1676 | $2022 |
| 53 | $1621 | $1973 |
| 54 | $1562 | $1929 |
| 55 | $1506 | $1884 |
| 56 | $1452 | $1838 |
| 57 | $1392 | $1786 |
| 58 | $1333 | $1732 |
| 59 | $1273 | $1676 |
| 60 | $1214 | $1621 |
| 61 | $1157 | $1562 |
| 62 | $1099 | $1506 |
| 63 | $1043 | $1452 |
| 64 | $987 | $1392 |
| 65 | $932 | $1333 |
| 66 | $880 | $1273 |
| 67 | $834 | $1214 |
| 68 | $792 | $1157 |
| 69 | $753 | $1099 |
| 70 | $717 | $1043 |
| 71 | $683 | $987 |
| 72 | $652 | $932 |
| 73 | $620 | $880 |
| 74 | $589 | $834 |
| 75 | $560 | $792 |
| 76 | $531 | $753 |
| 77 | $503 | $717 |
| 78 | $477 | $683 |
| 79 | $450 | $652 |
| 80 | $426 | $620 |
| 81 | $424 | $589 |
| 82 | $423 | $560 |
| 83 | $421 | $531 |
| 84 | $420 | $503 |
| 85 | $418 | $477 |
Colonial Penn, Jonathan Lawson insurance is not priced per thousand dollars the way the top life insurance companies do. While the advertisement seems to say how "affordable" the coverage is, the reality is quite different. This is simply because $9.95 just does not buy much insurance protection. Jonathan Lawson 995 life insurance is very expensive to own. You will likely need to buy more "units" to get adequate coverage to meet your needs.
Colonial Penn 995 Plan Pro's
No Health Questions and No Medical Exam
Very small policy amounts available
Guaranteed Lifetime coverage and level premiums
Colonial Penn 995 Plan Con's
Very high in cost
2 year limited benefit clause for natural death
Low maximum policy value for those in the later senior years
Puts family at risk of not receiving the money they need for funeral and burial costs
May not provide adequate death benefits for a funeral and burial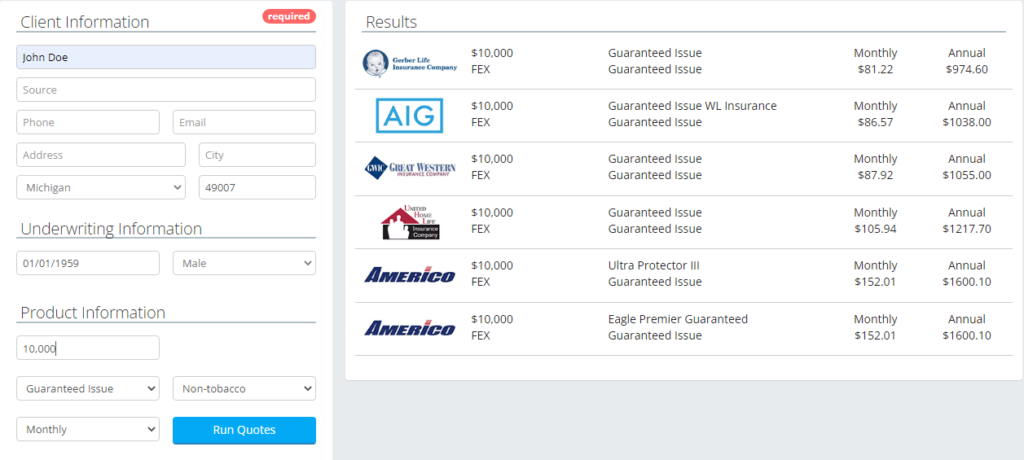 Female Rates (AGE 64) For Guaranteed Acceptance Whole Life Insurance Compared to Colonial Penn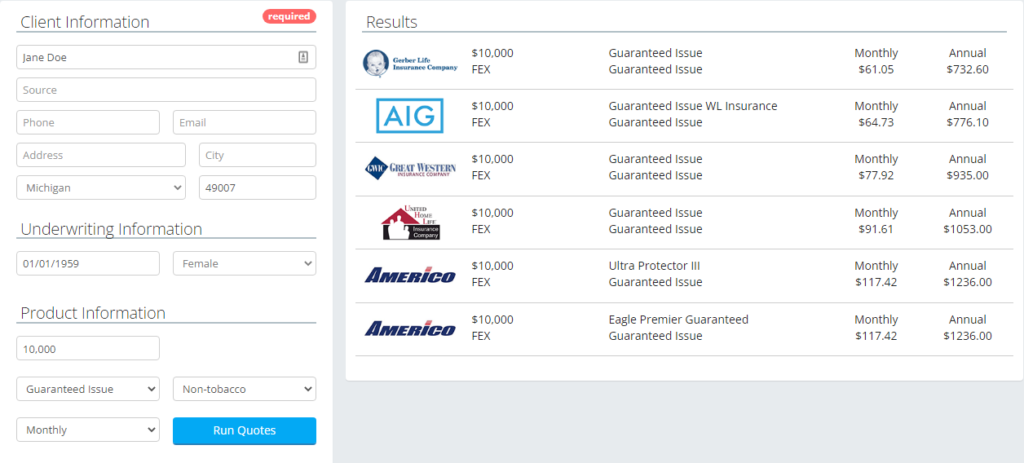 With the Colonial Penn 995 Plan, 10 units for a 64 year old male would produce a value of $9870 of life insurance. The monthly premiums for the Jonathan Lawson 995 life insurance would be $99.95 (9.95 x 10) per month.
In the comparison quote tool above, we can see that their are competitors that offer Guaranteed Issue whole life insurance for a much more competitive price. For example, we see Gerber Life offering the same no medical question, no exam life coverage for $81.22 for a full $10,000 of coverage. Without getting into the details, during the 2 year limited benefit period, it does offer better benefits as well. As you can see, there are clearly 3 companies that are considerably more affordable for Guaranteed Acceptance life insurance.
Looking at a fair comparison for a 64 year old female to have almost $10,000 in coverage with Colonial Penn would require 7 units. 7 units would buy $9744 with the 995 plan which results in a monthly premium of $69.65 (9.95×7).
A $10K policy with Gerber Life would only be $61.05 in comparison for the same, no health question, no exam, whole life insurance. Again, the Gerber benefits inside the first two years are also better than Colonial Penn 995 life insurance but that is beyond the scope of this review.
Tips For Finding The Best Burial Insurance Policy
Whether it's Ed McMahon, Alex Trebek or a real Colonial Penn employee like Jonathan Lawson, don't let the commercial fool you into believing the policy itself is something special.
lt is just sparkle to fool you into buying overpriced final expense life insurance.
You can save a lot of money by purchasing the right policy that really benefits your family and saves a lot of your hard earned money. No one wants to overpay on their insurance. Most people will qualify for full first day benefits and much lower pricing than even Gerber Life.
As I see it, you really have a couple choices as you make you insurance decision.
Buy life insurance directly from certain insurance companies (ie: Colonial Penn, Globe Life, State Farm etc.) and get overcharged.
Find a state licensed independent life insurance agency that represents a lot of different life insurance companies and have them shop for your best offer.
One of the biggest life insurance consumer mistakes is assuming that you get a good deal when buying directly from a carrier.
This is incorrect.
Number one, you are limiting your options. Secondly, you've raise the likelihood of being declined if your health is not ideal or up to their standards. Number three: Insurance companies outside of "direct" companies are much more competitive. This leads to better policies for your money and better protection for those you love.
These "direct" companies will NOT advise you to obtain coverage from another insurance company. The are happy to overcharge you each month instead.
When you work with a agency that brokers all the top life insurance companies, you have and excellent chance at getting the best policy for your needs at a good price.
If you want the best burial insurance, it is best to avoid the 995 Jonathan Lawson policy from Colonial Penn. Very, very few people need this policy.
Have your independent agent go shopping for you. No longer do you have to accept higher premiums and lower benefits just because your health is not A1. No exam life insurance isn't hard to find if you are talking to the right people.
Complaints Surrounding Colonial Penn Including the 995 Life Insurance
Colonial Penn does have a high NAIC Complaint Ratio. Lots of upset people who were not satisfied with their Colonial Penn experience. This does not mean that Colonial Penn was denying legitimate claims but it sure seems as though many families have felt mislead in regards to the coverage they purchased.
This is not good folks. They have had 3X times as many complaints against it as a company similar to its size. This is well above the industry average.
When you buy life insurance, you want to make sure you are dealing with an agent who is able to tell you the pro's and the con's of any policy your are considering. Don't get caught in the gimmicks. This seems to be a problem for Colonial Penn.
More often than not when I receive a phone call from someone angry with Colonial Penn, I find it is usually a policy that was not explained properly before it was sold to their loved one. It is typically a Mom, Dad, Brother or Sister who passed away in the first 2 years of coverage.
When you buy a policy, be sure to read it over to be sure it meets what your expectations. Ask you agent to clarify any questions. If it does not meet your satisfaction, you might want to consider exercising your free look provision which will allow you a full refund during the first 20-30 days depending upon your state law.
Conclusion
The Colonial Penn Jonathan Lawson commerical simply sounds like a top of the line life insurance policy doesn't it?
Unfortunately, It is actually quite the opposite.
There are 3 tiers of no exam whole life insurance. Without going into the different types, Guaranteed Acceptance Whole life insurance is at the bottom. That is what the Jonathan Lawson 995 life insurance is all about. Guaranteed Acceptance means lower benefits and higher prices. An owner of this type of insurance is considered a high risk life insurance candidate.
Ladies and gentleman, there are thousands of insurance carriers across the country. Many of them are life insurance companies. Colonial Penn is just 1. The top life insurance companies market themselves to life insurance agents/agencies not direct to consumers. If they did, you mailbox would be overflowing!
Their is a reason Colonial Penn works the way it does. They don't want to compete against the other horses in the stable. Good life insurance agents/brokers weed out the weak links like this. They don't compete well against the top life insurance companies in terms of price, benefits and value. All they can do is try to create an illusion of a wonderful policy by creating a commerical that drives callers to pick up the phone and buy on emotion.
Wanting to protect your family is very important and commendable. Just realize that you are compromising when working with any single insurance company like Colonial Penn. They just don't have a lot to offer with their 995 life insurance plan.
And that is that.
We're always here to answer any questions and/or get your family protected. 269-230-3464
Feel free to comment below. We do like feedback.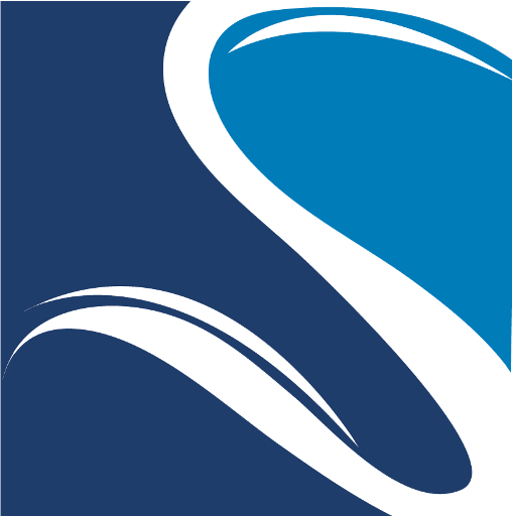 Special Risk Life is a veteran independent life insurance agency that specializes in guiding people with even the toughest health conditions thru the life insurance process. We are very passionate about helping people get the financial protection they want while delivering affordable coverage people can absolutely count on.